a stronger, healthier place
Learn What It Takes To Become a Personal Trainer from One of the Leading Training Facilities
Do you want to become a personal trainer?
As coaches we get to come to work everyday and help people transform their lives. It is one of the most rewarding jobs imaginable.
Unfortunately the "health and fitness" industry has become an industry filled with trainers unequipped to create genuine change. Most Cert 3 and 4 courses out there are purely online, using out of date material and no practical experience or teaching.
At Lift3 our aim is to change this and through our partnership with Athlete's Authority Education, create a new generation of Trainers who are fully equipped to have a great career changing people's lives and feel as fulfilled as we do every day.
In our 6 month course you will have a full online curriculum to work through that is constantly being updated with the lastest and most relavant information.
You'll also spend 2-3 hours with us in the gym every week. We'll use this time to teach you all the knowledge we have and use every day to be as effective as possible. You'll also be on the gym floor in that time, putting all that knowledge to work under our watchful eye to help guide you.
Not content in just giving you the bare minimum Certificate 3 and 4 Athlete's Authority has also partnered with the Australian Strength and Conditioning Association and Precision Nutrition, so you'll also graduate with an ASCA Level 1 and Prescision Nutrition Level 1. These will help set you apart from the average Personal Trainer and equip you to help a wider range of population
CERT III & IV
6 Month Course
Exercise Science Principles

Nutrition & Body Composition

Available In-Person with Some Online Study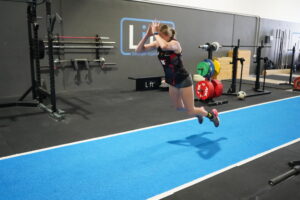 Unlocking the Power Within – 3 Effective Power Exercises Power...
Read More
D/2 Reliance Drive, Tuggerah NSW