How to get from injured to unstoppable -
The central coast's established choice of physiotherapist
Getting you to healthy and stronger, faster
On Pain, Injury and comebacks that dreams are made off
Have you been or are you stuck in a cycle that sounds like this?

1. Get injury or niggle.
2. Stop training to wait for it to go away or see a Physiotherapist/Massage therapist to get a rub down and it goes away.
3. A few weeks or months later, the same injury comes back or a related injury appears.
4. Stop training to wait for it to go away or see Physio....
5. Repeat for life.

It sucks and unfortunately is the reality for a lot of people using Physiotherapy.

Here's the problem holding you back;
Traditional Physiotherapy clinics are set up to support their business model, not treat you effectively.

With tiny clinics, no real "gym" space and short consult times it's hard for the Physio's to treat you effectively.

What this means for you is that your rehab could potentially be longer than necessary only fix the surface issue, not the root cause of your injury or niggle.

Not only that but when you stop training other areas weaken and create injury risk.

Pain becomes a standard of living and any thoughts of performance or health fade away.

Doesn't sound good right?

Thankfully, there is a solution.

Rehabilitation that helps you recover from injury while improving the performance of the rest of your body.

At Lift3 we've built our Physiotherapy practice from the ground up with your long term and sustained recovery as the focus of everything we've done.

With the largest rehab and coaching gym on the Central Coast, long consult times as a standard and advanced testing equipment we are positioned to get to the root of your problems and step by step work towards recovery.

Whether it's a few one off sessions or a longer term rehab program working with both our Physios and Coaches we will leave no stone unturned in getting you back to levels of health and performance you had given up on.

Our team of Physios and Coaches have both got a wealth of knowledge and experience in working in a rehab environment and making sure we look after your total body recovery.

So what are you waiting for?
Book in today for your initial consultation to start on your journey to recovery

Warning: due to our success at helping people like you we can be booked out in advance so make sure you don't hesitate as time is precious.
Why Choose Lift3 Physiotherapy?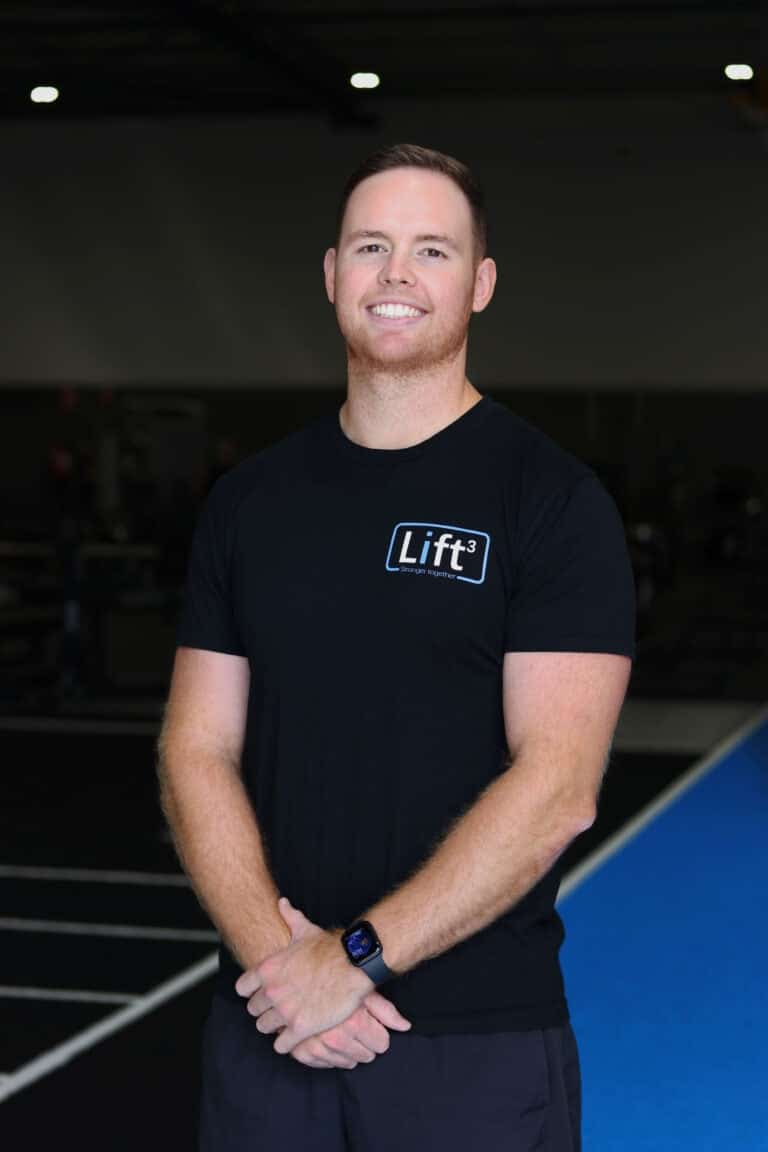 Hi, my name's Aaron and I'm excited to announce that I've joined the Lift3 team to bring Physiotherapy in-house, creating an integrated facility that will cater to all your rehab and performance needs.

I studied at Sydney University and completed a Bachelor of Exercise and Sports Science in 2014, before completing my Master's Degree in Physiotherapy in 2016. Since then I have moved to the Central Coast, working in the private sector with particular interest in resistance training and powerlifting. In the past 5 years I've completed further post-graduate training in sports and spinal Physiotherapy and advanced dry needling. I've undertaken my own resistance training for over 10 years and enjoy social sports including soccer and downhill mountain biking.

I find no greater fulfillment than taking an individual from an injured or impaired state, facilitating the rehab process and seeing them return at 110%. I truly believe that by combining the amazing new Lift3 facility with VALD Performance testing equipment and an integrated approach with S+C, we will be the top spot on the Central Coast to achieve best outcomes.

So feel free to book in a consult or have a chat in the gym if you have any questions and to see if I can help you!
With plenty of time in our consults and the very best technology on hand, we will work to effectively diagnose and assess your injury quickly.

With a tailored approach to every individual we will work hard to get you back to 100% as efficiently as possible.
Our team is experienced in working through the process and making sure the best results are achieved.
Foot, Ankle and Shin
Achilles Tendon Injuries
Achilles Tendon Surgical Repair Post-Op Rehabilitation
Ankle Ligament Tears (Grade 1-3)
Fractures, Including Post-Op and Non-Operative Rehabilitation
Bursitis
Compartment Syndrome
Tendon Injuries
Tendinosis
Osteoarthritis
Muscular Injuries: Gastrocnemius/Soleus/Tibialis Posterior
Plantar Fascitis
Lumbar Spine Referral
Overuse/Overtraining Injuries
Stress Fractures
Growth Plate (Epiphyseal) Pain and Dysfunction, Including: Osgood Schlatters Disease/Severs Disease/Sinding-Larsen-Johansson Disease
Knees
Anterior Cruciate Injury (ACL): Pre and Post-Op Rehabilitation
Posterior Cruciate Injury (PCL)
Medial Collateral Ligament (MCL) Tear (Grade 1-3), Including Post-Op Rehabilitation
Lateral Collateral Ligament (LCL) Tear (Grade 1-3), Including Post-Op Rehabilitation
Knee Joint Pain and Dysfunction
Bursitis
Fracture: Post-Op Rehabilitation
Meniscal Tears and Impingement, and Rehabilitation
Tendon Injury
Tendinosis
Osteoarthritis
Iliotibial Band Friction Syndrome
Patellofemoral Joint Pain and Dysfunction
Insertional Tears of Quadriceps, Hamstring, and Calf
Thighs and Hips
Osteoarthritis
Bursitis
Muscle Injuries
Hamstring Tears with/without Lumbar/Sciatic Nerve Involvement;
Adductor (Groin) Tears and Quadriceps Tears
Tendon Injuries and Surgical Repair Post-Op Rehabilitation
Overuse/Overtraining Injuries
Hip-Lumbar Spine Pain and Dysfunction
Gluteus Medius Tendinosis
Hip Pointer
Osteitis Pubis
Lumbosacral, Thoracic, Ribs And Cervical Spine
Osteoarthritis
Facet Joint Injuries
Costovertebral Joint Injuries
Soft Tissue Injuries
Disc Injuries
Radicular and Referred Pain
Neural Tension
Rib Fracture and Injuries
Rib Cartilage
Intercostal Injuries
Shoulder Elbow and Wrist
• Instability: Subluxation and Dislocation
• Joint Pain and Dysfunction
• Acromioclavicular Injury
• Sternoclavicular Injury
• Capsulitis
• Adhesive Capsulitis
• Rotator Cuff Impingement
• Rotator Cuff Tear: Partial and Complete
• Rotator Cuff/Acromioplasty/Stabilization Post-Op Rehabilitation
• Bursitis
• Fracture: Post-Op and Non-Operative Rehabilitation
• Burner/ Stinger Syndrome
• Muscle Injuries
• Tendon Injuries
• Glenoid Labrum Injury and Rehabilitation
• Scapular Fracture Rehabilitation
• Scapulothoracic Joint Dysfunction
• Cervical Spine-Shoulder Pain and Dysfunction
• Lateral Epicondylitis (Tennis Elbow)
• Medial Epicondylitis (Golfers Elbow)
• Bursitis
• Muscle Injury
• Tendon Injury
• Fractures, Including Casting and Rehabilitation
• Osteoarthritis
• Overuse/Overtraining Injuries
• Wrist, Hand, and Finger Injuries
• Osteoarthritis
• Tendon Injuries and Rupture
• Overuse/Overtraining Injuries
• Fractures, Including Casting, Post-Op and Non-Operative Rehabilitation
• Trigger Finger
• Carpal Tunnel Syndrome
• Finger Dislocations
Return to Play
Progressive and Individualised programs to return to running, changing of direction and return to sport
Performance & clearance testing to provide athletes with necessary information that can be utilised for injury prevention and optimising their performance.
Book your initial COnsult
Do I need a referral to see a Physio?
No you do not. You can book and come and see a physiotherapist without referral. If you have Joint or muscular pain then generally a Physio should be the first place you go. If a further referral is required then you may be directed back to your GP or directly to the relevant specialist.
Why do you only do 60 minute consults?
In setting up Physiotherapy at Lift3, we've put the patients best interest at the centre of our practice. By allowing 60 minutes it allows our Physios to spend more time getting to the root cause of your issue and then work out a better strategy for your comeback. We want to avoid rushing a diagnosis and just masking any pain which then returns soon after anyway. Lift3 is about getting you back to 100% effectively, for now and the future.
Do you accept Private Health Funds?
We certainly do. We have a Hicaps Terminal on site that you can swipe your card through as needed. Alternatively on the Rehab programs you have the option of paying and then receiving invoices/statements that you can then use to claim against private health
How am I able to claim the S&C coaching and membership on Private Health
When you sign onto our rehab program we want to get you the best results possibly. So for the price of your Physio consults we give you free coaching and membership. This means you are only paying for Physiotherapy which is what is covered by your health fund.